Advanced and friendly Drone GCS system
UAV Ground Control System
The Sentinel UAV Ground Control Station is a small-sized, portable unit that enables safe operation and control for our military drone. Its user-friendly incorporated interface is used for mission planning, different operational modes, payload control and UAV monitoring.
The user interface includes real-time display and a moving tactical map for complete mission overview. The control console has a built-in ruggedized computer with a touch screen option for maximum operation convenience. The separation between the control unit and the video screen allows free operational movement while offering an option of mounting the unit on a second tripod.
The GCS drone is a unified control unit as the same unit is able to control the variety of Aero Sentinel's quadcopters.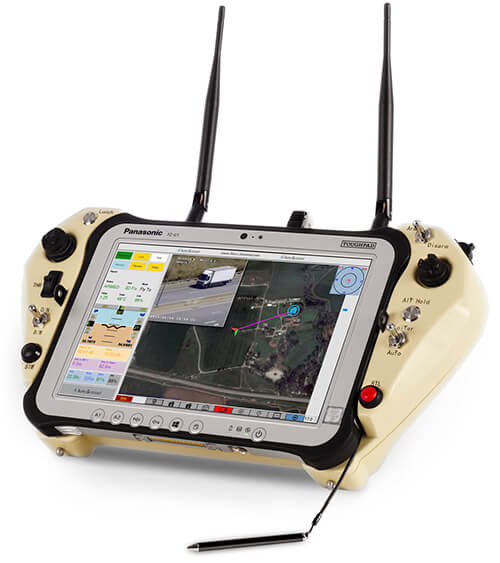 Provides command, control and information of drone and camera with real time video display.
Men portable by neck strap or tripod mount.

MIL-STD

joysticks and buttons.

MIL-STD 10" rugged tablet

computer by Panasonic i5 core, windows 10.
Ruggedize ergonomic case.
Weight: 2.8 kg
Dimensions: 40 cm * 20 cm * 8 cm
Built in communication and antenna (2.4 ghz ISM BAND).
Built in battery 12v for communication with power display.
Output HDMI A (screen duplicate).
USB2 interface.
Provides command, control and information of drone and camera with real time video display.
Men portable by neck strap 
MIL-STD joysticks and buttons.
MIL-STD 8" rugged tablet computer.
  windows 10.
Ruggedize ergonomic case.
Weight: 1.5 kg
Dimensions: 35 cm * 15 cm * 8 cm
Built in communication and antenna (2.4 ghz ISM BAND).
Built in battery 12v for communication with power display.
USB2 interface